EACH YEAR THERE ARE APPROXIMATELY 100 DEATHS AND OVER 30,000 INJURIES RELATED TO OPERATING A FORKLIFT. TRAINING AND CONSISTENT SAFETY INSPECTIONS CAN ENSURE THAT YOU AVOID HAZARDS THAT CAUSE INJURY OR PROPERTY DAMAGE. THIS GUIDE ON FORKLIFT OPERATIONS PROVIDES YOU WITH ESSENTIAL TRAINING FROM GREEN CIRCLE'S HEALTH AND SAFETY MANAGER.
Safety hazards and differences between operating a car and forklift:
An average forklift weighs between 4k-40k pounds compared to a car that weighs 2k-6k pounds. Additionally, forklifts have a center of gravity that will fluctuate depending upon load weight. For these reasons, it is important to be mindful of your surroundings when operating a forklift.
Before You Begin Driving
Prior to driving a forklift, a safety inspection must be performed. Start by first checking the data plate. A data plate provides you with information about the forklift such as weight capacity and the previous inspection date. Should you discover any issues with the forklift, it must be noted on the data plate and repaired before operating.
Next, inspect the forklift for the following:
General inspection of the engine
Hydraulic fluid
Transmission fluid
Motor oil level
Any fluid leaks
Hoses are in good condition
The air filter is clean
Radiator
Forks
Chains
Mast of forklift
A working fire extinguisher is present
Once you have completed your inspection you're ready to start the forklift. First, buckle your seat belt. Then conduct a few tests before you begin to operate the forklift. Check that the front and rear lights function properly. Test lifting the fork all the way up and back down. Most importantly, familiarize yourself with all of the forklift controls as every truck is a little different.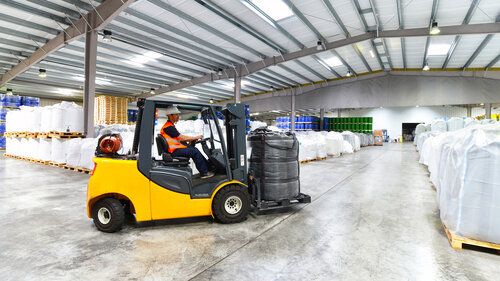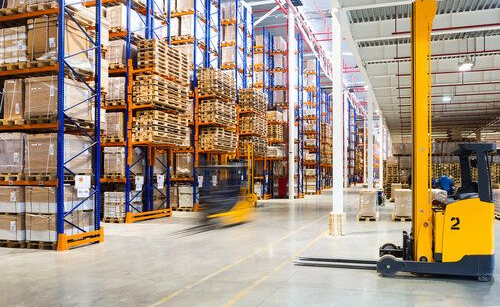 Driving a Forklift
Remember, pedestrians always have the right of way. Drive slowly at intersections and use your horn before driving through. Check your mirrors every few seconds for any obstructions or traffic.
Keep the surface type in mind when you're driving. Conditions of the road like mud, dirt, ice, gravel, sand, and concrete will all have different impacts on the way you operate a forklift. When driving, keep the forks slightly tilted back with the load 2-6 inches above the ground. Never drive with the load lifted in the air. This will impact the center of gravity and increases the chance of an accident. Never lift the load higher than necessary in order to see above it. If your view is obstructed by the load, drive the forklift in reverse to have a clear view of your path.
Most forklifts allow space for one driver. There should never be passengers riding along in a forklift. Additionally, never cross under a forklift with or without a load. Never allow others to cross under a forklift.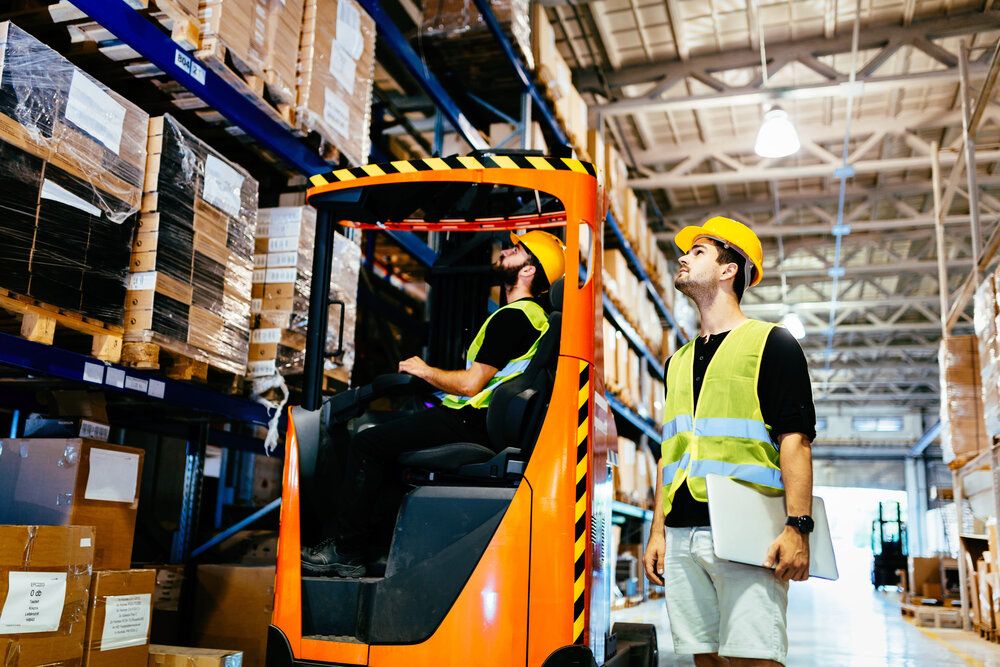 Lifting and Lowering
When picking up a load, slowly drive forks in position until load reaches the backrest. Lift the fork slightly and look to see if the area around you is clear. After confirming you're clear to back up, honk the horn, back up and lower load 2-6 off ground. If you're picking a load up from a shelf, pull the item off of the shelf and immediately lower the load. Never drive or turn with the load lifted in the air.
To set a load down, square up the forklift one foot in front of the loading area. Next level the fork and slowly drive forward. Lower the load in place and then tilt the forks forward to set the load down. Remember to look over shoulders and honk before backing out.
Parking a Forklift
Before parking a forklift be sure that an emergency or fire exit is not blocked. There should be at least three feet of room on all sides of the forklift when parked. Tilt the forks forward and place the forks on the ground. Finally, turn the engine off and activate the parking brake.
With consistent safety training, you can prevent accidents and damage to your property. Although this list has important safety information for operating a forklift, it does not take the place of a safety training course. Partner with reputable agencies to provide your team with the proper education and techniques they need to make safety in the workplace a priority.