The COVID-19 pandemic had a very uneven impact on businesses nationwide, and we have seen a material increase in demolition and repositioning opportunities around the movie theatre space. Out parcel movie theatres suffered an immediate and sometimes lethal blow, and we are currently pricing dozens of conversions to a myriad of uses from storage, to automotive service centers to child care facilities. The large boxes that once housed 10-20 individual theatres can be removed and returned to shell condition for between $150,000 - $250,000 typically depending on construction type.
Green Circle was hired for the adaptive re-use of a movie theatre for Southern Off-Road Specialists into a custom automotive shop. The project required the careful demolition and removal of cast-in-place movie risers backfilled with dirt and stone. The removal of all non-structural interior items including the drywall, carpeting, ceilings, and millwork. The concrete slabs were all sloped and need to be removed as well to provide a level work surface for the automotive shop. The experienced crews utilized excavators with hammers and skid steers to move debris out of the building in tight constraints with no damage to existing to remain items.
Project Stats
Former Movies 400 Cumming, GA
Removal of 12 Complete Theatres
White Box 25,000SF of Finishes and Remove SOG Concrete
Recycled 2,400 tons of concrete
Completed on Budget and On Schedule
How it's done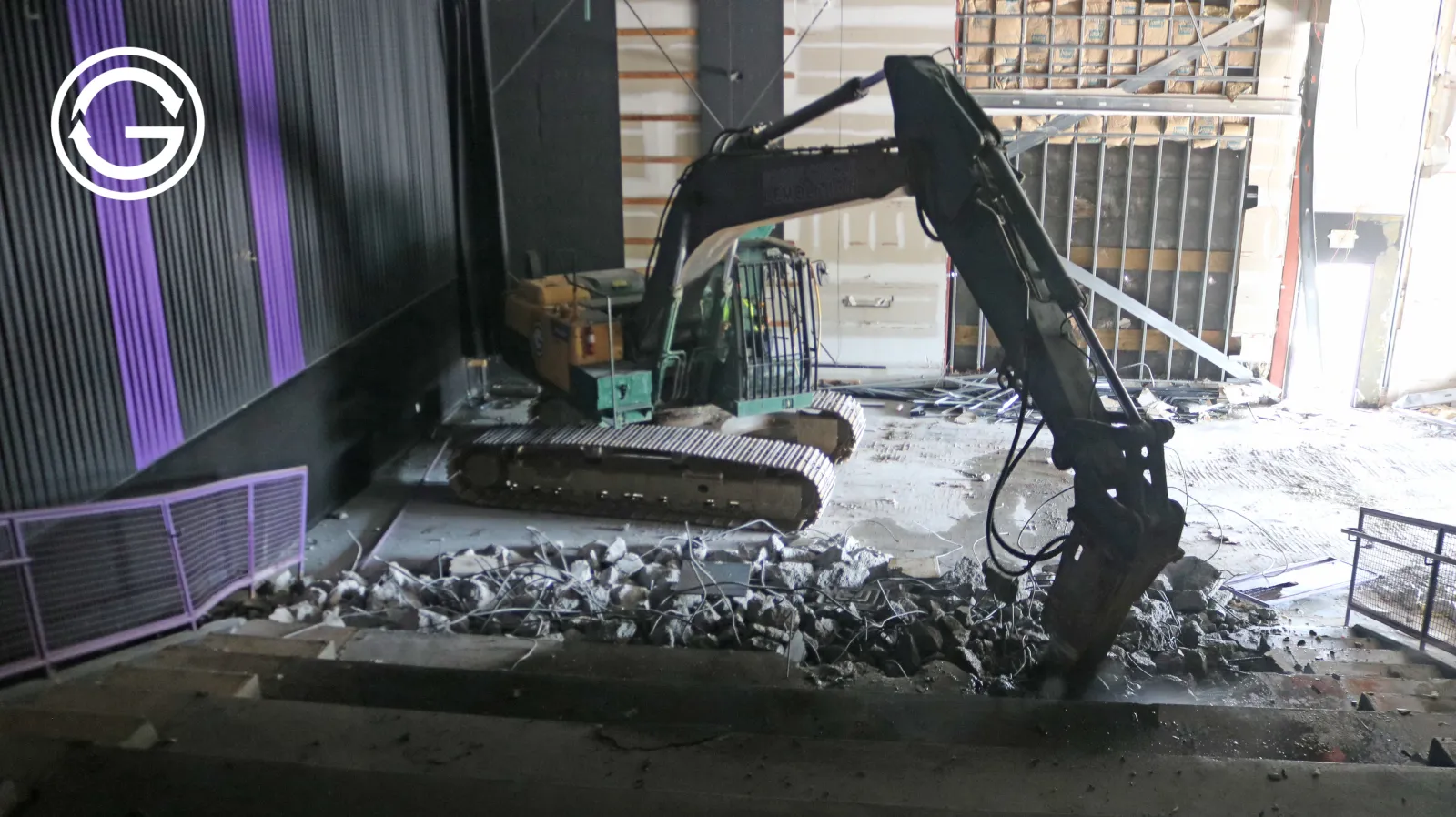 Bring in the Heavy Machinery
GCD deployed our excavators with hammer attachments to tackle 12 sturdy concrete theater seating and flooring for the adaptive reuse
Hammer Attachments
There are times when an obstacle prevents normal excavation from occurring. The hammer/breaker is brought in to chip away at large boulders or existing concrete structures in a controlled process.
Theater Seating
When building theater seating there is a lot of dirt covered by rebar and thick concrete to hold the weight of the packed theater full of people and durable metal seating.